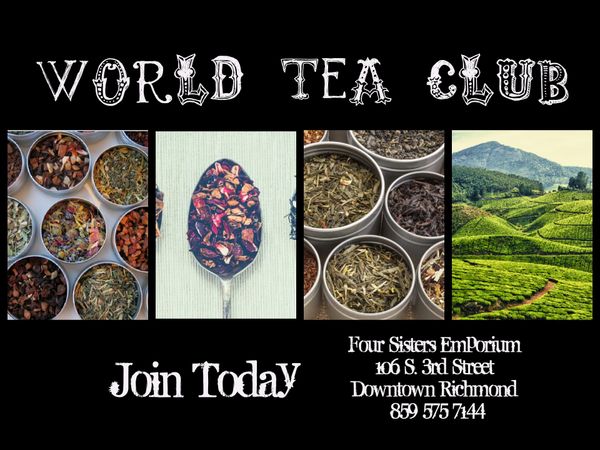 Wether You live local or far away from the Bluegrass, you can now be apart of the World Tea Club! It's free to join and a great way to discover new teas.
How does it work? Easy, just try 55 From our 90 Diffrent teas within 1 year, and you will be a full member! You will aslo be eligible for a lifetime discount of 15% on all your tea, and a Free hand pottered mug that says "Four Sisters World Tea Club"
For local orders just go to the shop, and pick out your tea each week.
For those that want to take part from afar after signing up here, you will receive a mini pack of tea each week (2 packs the 1st week in December, april, and august) shipped monthly. It's $4.00 a week and we offer free shipping for the tea! There's no obligation once you start, so you can cancel at anytime. Call 859 353 1104 for more details
TO JOIN SUBSCRIBE HERE!!